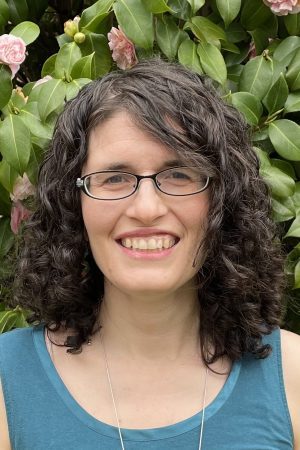 Elise Berman
Associate Professor
PROFILE:
I am a linguistic, cultural, and psychological anthropologist with a broad range of interests in linguistic diversity and change, migration and climate change migration, children's languages and cultures, racialization, socialization and education, and Pacific Islanders. I am broadly interested in the sociolinguistic construction of difference—be it age, race, or gender. My current work focuses on climate change migration and migration to the New South particularly among Marshallese communities. I am working on several projects including the reasons for climate change migration, processes of racialization that take place in rapidly changing multiethnic and multilingual schools, sociolinguistic reasons for educational inequity, English Learner status assignments in schools and their implications, linguistic change and the analysis of an emerging variety of American English among Marshallese children, and neocolonialism as well as changing definitions of indigeneity. My past research focused on child cultures and language use in the Marshall Islands itself, as well as the production of immaturity, children's roles as economic agents, corporal discipline, and adoption. I have also done some work on Marshallese experiences of remote learning during Covid-19. My work has been supported by the National Geographic Foundation, National Science Foundation, the Wenner-Gren Foundation, the Society for Psychological Anthropology, the Notre Dame Institute for Advanced Study, the University of Chicago, and the University of North Carolina at Charlotte.
Students: I am interested in working with students on any of the following topics: migration (including climate change migration), anthropology of education, any area of linguistic anthropology including, children's cultures, cultural influences on human development. I am also interested in MA/MPH students interested in child health.
EDUCATION:
PhD University of Chicago 2012
MA University of Chicago 2008
BA Dartmouth College 2003
TEACHING:
Introduction to Linguistic Anthropology
Intercultural Communication
Language and Culture: Fundamental Issues in Linguistic Anthropology
Anthropology of Childhood
Introduction to Anthropology
RESEARCH INTERESTS/AREAS OF EXPERTISE:
Linguistic anthropology
Anthropology of Childhood
Cross-cultural human development and the life course
Age and race
Language socialization
Immigration and education
Deception and truth
Violence against children across cultures
The politics of language and exchange
Adoption, kinship, and families
AWARDS/HONORS/GRANTS:
Wenner-Gren Hunt Postdoctoral Fellowship, 2015-2016
Distinguished Guest Fellow, Institute for Advanced Study, Univ. of Notre Dame, 2013
William Henry Award for best dissertation in the Department of Comparative Human Development in 2012, University of Chicago, 2013
Faculty Research Grant, UNC Charlotte, 2013
Provost Dissertation-Year Fellowship, University of Chicago, 2011-2012
Bernice Neugarten Prize Lectureship, University of Chicago, 2011
Bernice Neugarten Prize (Research), University of Chicago, 2011
Research Travel Grant (Orin Williams Fund), University of Chicago, 2011
Wenner-Gren Dissertation Fieldwork Grant, 2009-2010
NSF Doctoral Dissertation Improvement Grant, 2009-2010
Lemelson Fellowship, Society for Psychological Anthropology, 2008
Century Doctoral Fellowship, University of Chicago, 2005-2009
Title IV FLAS summer language fellowship (Guatemala), University of Chicago, 2006
Claire Garber Goodman Grant for Anthropological Research, Dartmouth College, 2002
SELECT PUBLICATIONS:
Berman, Elise 2014 Negotiating Age: Direct Speech and the Sociolinguistic Production of Childhood in the Marshall Islands. Journal of Linguistic Anthropology. 24(2).
Berman, Elise 2014 Holding on: Adoption, Kinship Tensions, and Pregnancy in the Marshall Islands. American Anthropologist. 116(3).
Berman, Elise 2013 Passive First-Person Recordings: A New Way to Study Children. Anthropology of Childhood and Youth Interest Group (ACYIG) Newsletter, February 15.
Berman, Elise 2011 The Irony of Immaturity: K'iche' Children as Mediators and Buffers in Adult Social Interactions. Childhood 18(2):274-288.
Berman, Elise 2009 Voices of Outreach: The Construction of Identity and Maintenance of Social Ties among Chabad-Lubavitch Emissaries. Journal for the Scientific Study of Religion 48(1):69-85.
BLOG POSTS:
Berman, Elise 2016 Aged Culture. Life Course Blog. Life Course Collaborative Research Network, February 8. https://anthropologyandgerontology.com/aged-culture/ http://clas-pages.uncc.edu/elise-berman/