Dena Shenk receives 2015 de Silva Award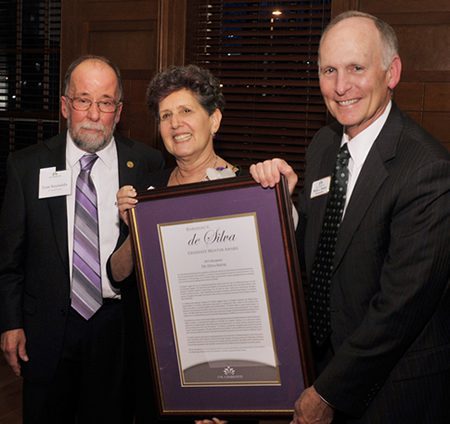 Dena Shenk, professor of anthropology and graduate coordinator of the Gerontology Program, is the 2015 recipient of the Harshini V. de Silva Award; the honor is presented annually to a faculty member who best exemplifies de Silva's commitment to graduate students.
Colleagues regard Shenk as an exceptional graduate mentor who has had an influential impact on the Gerontology Program.
"Dr. Shenk has participated in mentoring virtually every successful master's and graduate certificate student in gerontology over the past 20 years," stated one nominating colleague. Another nominator wrote, "I don't think there is an agency, business, assisted living residence or geriatric practice throughout the region that doesn't have at least one graduate mentored by Dr. Shenk as part of their leadership."
In working with graduate students, Shenk is known to engage them in scholarly research and to provide them opportunities to co-author publications and present at conferences.
"Dr. Shenk offers an impeccable balance of guidance and autonomy that allows me to hone my own research ideas without feeling lost," one student wrote. "Her gift of offering consistent, direct and constructive insights without being disheartening of ideas helped me to critically assess my own work while improving my confidence in my own research ideas."
Shenk earned a doctorate in anthropology from the University of Massachusetts in 1979. She joined UNC Charlotte in 1991 as director of the Gerontology Program. Her areas of interest include aging in cultural and environmental context; women and aging; direct care workers; people with dementia; elder abuse and mistreatment; and using narrative approaches and photography.
Earlier this year, the Association for Gerontology in Higher Education (AGHE) bestowed its Mildred Seltzer Distinguished Service Recognition upon Shenk. The honor is given to colleagues "who are near retirement or recently retired. Recipients are individuals who have been actively involved in AGHE through service on committees, as elected officers and/or have provided leadership in one of AGHE's grant-funded projects."
Shenk received the de Silva Award during a special awards ceremony at the Harris Alumni Center, Thursday, March 26.
Each year, the Chancellor's Office and the Graduate School present the Harshini V. de Silva Graduate Mentor Award; it was established in memory of de Silva, an associate professor of biology who was known for her deep dedication to the academic and professional development of graduate students.